Green River College from above
ZACK APIRATITHAM, COURTESY OF GREEN RIVER COLLEGE
Community college in Washington State increasingly relies on international student revenue, but some faculty worry it is moving away from its mission of serving local residents.
AUBURN, Wash. — Green River College's main campus sits on a forested tract atop a hill.
The suburban Seattle institution is the 10th-most-popular choice of community college for international students coming to the U.S. Here at the college on a hill, macro trends in higher education are visible on a micro level: international students are coming to the U.S. in greater numbers, and at younger ages. Their tuition dollars come as welcome relief to public colleges that are under pressure to become more entrepreneurial. Profit centers exist uneasily within institutions with public service missions.
There are other ways in which Green River is distinct. Faculty have taken two votes of no confidence in President Eileen Ely, and another, in November, in the Board of Trustees. The faculty union has gone since June 2014 without a contract, though a tentative agreement for a new one has been reached. The elimination of a program (auto body) headed by the former union president has heightened the distrust between faculty and administrators, as has an ongoing prioritization process that will rank academic programs into one of five quintiles.
Administrators are looking for ways to close a projected $4-5 million budget deficit, caused in part by a new state allocation formula under which Green River stands to receive a 5 percent funding cut — about $1.3 million based on current levels. The college has become increasingly dependent on international student tuition as enrollments of Washington State residents have declined and the proportion of the operating budget that comes from state appropriations has fallen (56 percent in 2015-16, down from 62 percent five years earlier). Faculty in turn have concerns about the administration's allocation of resources, including its choice to spend large sums derived from international student tuition on capital building projects.
Amid the acrimony, international students come — 1,746 of them last fall. Paying more than 2.5 times the tuition of Washington State residents, international students have, since 1987-88, contributed about $75 million toward the college's general fund and its capital projects budget and changed the composition of its classrooms.
"It was really twofold," Ely said of the development of the college's international program. "It was, one, a financial benefit to the college, but it was also for educating our students on globalization … making sure if we're training students for tomorrow's workforce — and it is a global world out there and a global economy — that they have the opportunity to work with international students in the classroom."
"It really is a win-win," Ely continued. "When you walk through our campus nowadays you almost can't tell an international student from a domestic student because from the local school districts alone we have students coming in with 138-plus different languages."
Faculty say they welcome the international students, but worry about the balance. They ask: Are international students being privileged over local students for the financial benefits they bring? What is the appropriate scope and scale of a quasi-privatized unit to recruit international students within a public community college?
"We certainly understand the importance of having international students on the campus and what that can bring to the campus, but to me the primary mission of a community college is to serve the needs of our immediate community. I worry that we are moving away from that," said Mark Thomason, the chair of the social sciences division and an instructor of history.
"Our college is a public, taxpayer-funded institution," Vik Bahl, an English instructor who co-chairs the Green River Diversity & Equity Council, wrote in an op-ed shared on Facebook. "Should we just turn it into a private, for-profit entity? How should taxpayers in our community respond to the fact that President Ely and members of the BOT are clearly willing to sacrifice the obligations we have to students in our local communities in order to chase the unaccountable dollars they can generate from international students?"
Green River's International Student Profile
The tensions between faculty and administrators at Green River — where faculty members have formally objected to what they describe as "arbitrary administrative decisions," the "dismantling of shared governance" and "unethical and irresponsible fiscal management" — go far beyond issues specifically related to international students. But Green River's growth in international students means they are a critical part of any conversation about the character and trajectory of the college.
Green River is not a new entrant to international student recruiting — the college created a dedicated international student program in the late '80s — but its international enrollments have grown by more than 1,000 students over the past 10 years, from 592 international students in fall 2005 to 1,746 in fall 2015. Going forward, the college is aiming for what Wendy Stewart, the dean of international programs and extended learning, called "stable and moderate growth" in international enrollments, on the order of 3 to 5 percent per year, and greater diversification in terms of the countries students come from.
The students come mainly from East Asia. Slightly more than half hail from China and Vietnam, the top two countries of origin.
About 40 percent of Green River's international students come for its high school completion program, in which students as young as 16 can take dual credit toward a high school diploma and a two-year college degree. The college requires 16-year-olds to live in homestays, while students 17 and over can live in Green River's apartment-style residence hall.
Roughly 85 percent of Green River's international students are transfer bound. As is the case for many American students, they come to the community college as a stepping-stone on the way to a four-year U.S. university. Green River has negotiatedconditional admission arrangements with 31 U.S. universities, including three University of California campuses (Davis, Irvine and Santa Barbara), and has a staff of six full-time international student advisers, plus an advising director, to help with degree and transfer planning, as well as visa-related issues. Two additional advisers, one full-time and one part-time, work with students in the college's intensive English-as-a-second-language program.
Another 85 percent statistic: that's the proportion of Green River international students recruited through agents. Green River has been at the forefront of a national effort to normalize agency and commission-based recruitment of international students. American colleges are barred under federal financial aid law from paying per capita commissions for the recruitment of domestic students. While the prohibition does not apply to overseas recruiting, critics of the use of agents argue that a commissioned payment system incentivizes application fraud and creates a conflict in which an agent could be tempted to put his or her financial interests ahead of the best interests of students. Proponents of the practice counter that commission-based recruitment can be done ethically when colleges find trustworthy agency partners and are careful about the procedures they put in place.
Green River's vice president of international programs and extended learning, Ross Jennings, is of the latter school. He sat on a National Association for College Admission Counseling task force that in 2013 recommended that the group lift its ban on commission-based international recruitment (which it subsequently did).
Jennings said Green River pays recruiting agencies a commission equal to 15 percent of a student's tuition for his or her first three quarters. For a student taking a full-time, 15-credit load, that equals $1,485 per head.
"We're utterly unapologetic about the use of agencies," said Jennings. "There are force multipliers for us because we can't be everywhere." Further, Jennings said that a relationship between the college and an agency serves as a quality control check.
"We still do admission — no one does admission for us — but they can screen the kinds of students we want to get."
Green River, as is typical for community colleges, is an open admission institution. International students who don't achieve the required score on standardized English proficiency tests can start in the intensive ESL program, which enrolled 429 international students last fall, or about one-quarter of the college's total. Green River has a mandatory international student college experience class, which covers U.S. classroom expectations and academic success strategies, and also requires all international students to participate in a structured peer mentoring program calledFoundation for Success.
Green River's international students earn higher GPAs than their American counterparts. In spring 2015, the average GPA for international students in college-level courses was 3.16, while it was 2.84 for domestic students.
'A Cadillac Product'
International students account for 16 percent of Green River's student body and nearly a quarter (24 percent) of the college's full-time equivalent enrollments. Just the academic (non-ESL) international students account for 20 percent of FTEs.
Because more than two-thirds of Green River's international students study business or STEM-related fields, their representation is particularly high in certain courses and sections. Ajay Narayanan, an instructor of physics and astronomy, said it's not uncommon for 20 of 25 students in his introductory physics classes to be international. That kind of concentration of international students, some of whom struggle with English, has compelled him to change the way he teaches, he said.
"I used to do a lot of project-based learning. I would assign projects to students and have them work through a free-form assignment where they might build a project and write an essay describing how they built the project. That became extremely time-consuming, just having to give them extra instructions, describe everything that is in the handout several times over so they can follow it," Narayanan said.
A task force on international student teaching and learning formed in 2010, shortly after Ely arrived at Green River, made 21 recommendations, including the development of a mandatory college experience class for international students — since implemented — and the creation of a study group to examine "the impact of international students on access and classroom dynamics with a focus on: (a) percentage of international students in any one section, (b) the perception that international students are limiting access for domestic students in classes, (c) registration process for international students," among other issues.
An international education committee, headed by Thomason, the social science division chair, is charged with being a liaison between the international program office and the college's Instructional Council. The committee did not meet last fall, Thomason said, because faculty have opted not to do uncompensated committee work until the protracted negotiations on their contract are complete.
On the instructional side, issues surrounding prerequisites and international student registration have been particularly vexed. Regarding the former, the social science division has pushed to raise the English prerequisite on its courses: faculty would like to require students to have placed into or otherwise be eligible to enroll in English 101, the introductory college-level English course, as a prerequisite for taking social science classes (this means that students couldn't take, say, an introductory economics or history course until they demonstrated readiness to enroll in college-level English). The science division already requires eligibility for English 101 as a prerequisite for its courses.
Derek Brandes, the college's vice president of instruction, vetoed the social science division's proposal. Though Jennings, the vice president of international programs, said he did express to Brandes his concern that upping the prerequisite could delay graduation for some students, Brandes said his decision had nothing to do with the international population. Rather, he said he opposed an increased prerequisite because it would create a barrier for (domestic) minority students who "are getting trapped in developmental and precollege classes."
"What's happening is these students are getting frustrated," he said. "They don't feel like they're progressing, they're getting buried by all the prerequisites we have on courses — the prerequisites got put on because of the international mix — but those students domestically are struggling and if you look at our achievement gaps as a college, there are huge gaps in [university transfer rates for] our Hispanic and African-American population," said Brandes. He added that there are a lot of models in which students "are getting great gains in their developmental and precollege education when it is embedded in content they are interested in."
"My division's stance on all this is we want students to succeed," said Thomason. He shared GPA data from 100-level social science courses showing that students who were eligible for English 101 generally outperformed their counterparts who weren't, sometimes by substantial amounts.
"The 100-level courses that we teach here, they're transferring into the University of Washington. The standards need to be the same. And if students don't have college-level reading and writing they're going to struggle," said Thomason. He believes that opposition to the prerequisite proposal on the part of the international program office likely played a role in the decision to reject it, despite Brandes's statements to the contrary: "to deny that international programs had anything to do with this, I don't believe that," Thomason said.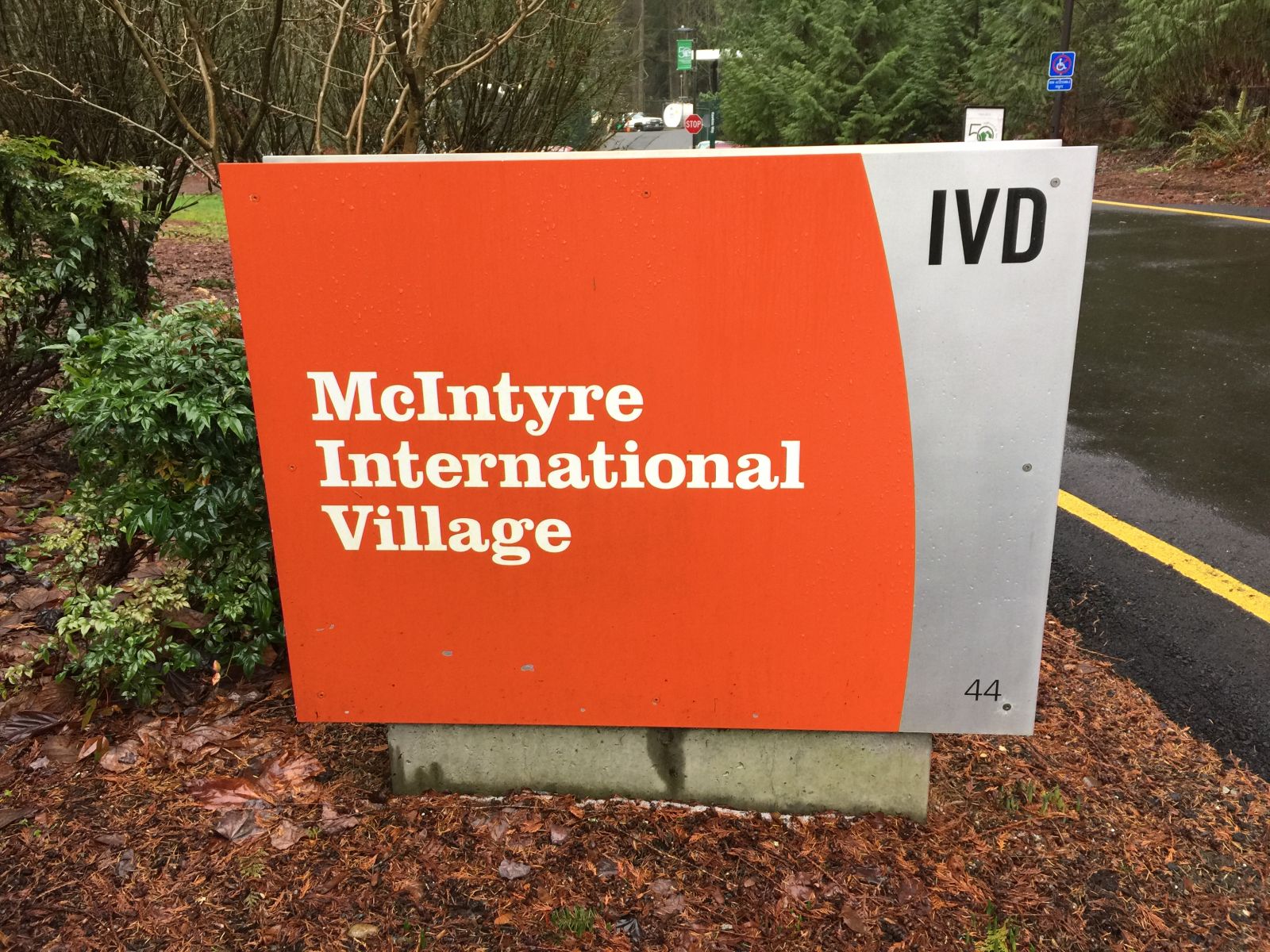 Tawnya McLaveyIt's this kind of distrust and disagreement that contributes to the perception held by some Green River faculty that the international program is the tail wagging the dog that is the rest of the college. The practice of reserving two to three spots in certain classes for international students is especially fraught, with some faculty feeling it's unfair to local students who can't register for those saved seats. Jennings thinks otherwise, saying "a three-place offset is a pretty small concession to address a huge disadvantage international students have" in registration, the disadvantage being that they can't take math and English placement tests — and therefore register for many classes — until they get to campus. "We have no other way of having any classes guaranteed at all for international students," he said.
The larger question of whether international students are being privileged over local students is pervasive at Green River. "International or study abroad students anywhere in the world receive a level of support commensurate with their financial contributions and special needs," Jennings said. He recalled that when he was an exchange student at the American University of Beirut, a private institution, "we had two weeks of Arabic training in the mountains of Lebanon, we had excursions, we had field trips, we had a special adviser. We had housing arranged for us before we came. The local kids did not have that."
Those kinds of specialized services are paid for out of the (higher) fees international students pay, Jennings said. Without them, he said, the students won't come — "and the cultural and financial benefits they confer to their institutions would not exist."
Steve Kinholt, a mathematics instructor, uses the analogy that Washington State resident students are in coach while international students are riding first-class. "I think the administration in our current environment is portraying the faculty as being opposed to international programs, and we are not at all," Kinholt says. "We're just a little bit wary of the number of students who are coming, the fact that we're being asked to reserve seats for them as well."
"I'm thinking we're going to have local parents saying, 'Hey, my child wasn't able to get into your class either. Why don't you reserve seats for the local high schools?'"
"They're buying a Cadillac product, so they get Cadillac services," said John Avery, an instructor of English for speakers of other languages (a program for immigrant and refugee students that is separate from the intensive English program for international students).
"I know that our international programs is proud that they're able to offer that," Avery said. "But the primary mission of this college should be to serve the local students, and not just be running a side business, which is sometimes what international programs amounts to."
A Changing College
Green River is a college with a changing financial model and student demographic. It is also one in which the administration and the faculty differ on a vision for the future. Jennings thinks the international program is "caught in the crossfire."
"Green River's international program reports directly to the president, and so is a target of suspicion by some for its reporting to administration, rather than faculty," he said. "Reasoned debate and discussion about every function of the college, including the international program, is quite proper. The reasonableness of debate, however, has sometimes been compromised by passions excited by discord and positions of solidarity in the present climate of disharmony between faculty and administration at our college."
In a climate of disharmony, scrutiny of how the college chooses to spend the large sums it generates in international student tuition is perhaps to be expected. In 2013-14, Green River's international program brought in about $18.9 million in revenue. After accounting for expenses for the self-supporting international program office — including salaries and benefits for staff and intensive English program instructors, recruiting travel, and agency commissions — the net income for the college was about $11.4 million.
About $4.9 million of that went to the general fund to pay for costs of instruction and operations. The academic year of 2013-14 was unusual in that the college made a $20 million-plus drawdown from international program revenues held in reserves to pay for capital building projects.
International Program Revenue and How It's Used
| | | | |
| --- | --- | --- | --- |
| | 2012-13 | 2013-14 | 2014-15 |
| Income | $17,394,594 | $18,861,958 | N/A |
| International Program Operating Expenditures | $7,450,557 | $7,504,659 | N/A |
| Net Income | $9,944,037 | $11,357,299 | N/A |
| Support for General Fund, Permanent | $3,015,000 | $3,500,000 | $3,500,000 |
| Support for General Fund, One-Time | $1,264,534 | $1,434,184 | $2,083,654 |
| Support for Capital Projects | $608,628 | $20,210,878 | -$931,198 |
| Total Support for College | $4,888,162 | $25,145,062 | $4,652,456 |
The intensive spending on capital projects at a time when faculty feel their programs — and jobs — are on the line has been another source of tension at Green River. There's been a flurry of construction — a newly completed trades building, a section of which would have housed the eliminated auto body program; a new classroom building in downtown Kent, about a 15-minute drive from the main campus in Auburn; a new student life center that's under construction; and a new building intended to house aviation, among other programs.
In the written rationale for their no-confidence vote in the Board of Trustees, faculty singled out this last project as an example of the administration's questionable financial decision making: "It was intended for flight simulators to be moved into the new building, but the building will not be large enough," the document states. "Instead, the college will seek to rent additional space in Auburn for the flight simulators. Construction began in 2015 to build an inadequate building that will cost the college millions of dollars over the next 20 years and the college will still have to rent additional space to house the flight simulators."
Allison Friedly, Green River's spokeswoman, said the plan all along was to house the simulators elsewhere. "It's classroom space," she said of the building under construction. "It's adjacent to a building that we would like to secure for our flight simulators, but there was never any intention of putting flight simulators in that building."
In any case, Jaeney Hoene, the faculty union president and an English instructor, said, "It seems absurd to invest money in building a building that is exclusively for aviation and not to make sure that it can house the things aviation needs."
"Most of us would generally say if the college is having the kind of budget crisis that they say it is, then it was probably not a project they should have taken on. But if they were going to do it, to make sure it was actually serving the needs that existed would seem to justify it better," she said.
Hoene would like to see a greater proportion of international student tuition go to the general fund to pay for instructional costs shared by international and domestic students. In 2013-14, about 26 percent of gross international program revenue and 43 percent of net revenue went to the general fund. Those percentages should, however, be interpreted in light of the fact that close to a quarter of the college's international students are enrolled in intensive English classes that are paid for out of the international program (and not the general college) budget.
"The college has a great deal of international money that it's choosing to put into capital projects and other things that it's interested in doing while shorting what it needs to put in to balance the operating budget, and consequently they are canceling programs and this year they're threatening to cancel others," said Hoene, in reference to last year's cuts to the auto body and geographic information systems programs and the ongoing program prioritization process.
Ely said revenue from international programs helped the college to avoid cuts to programs after the 2008 recession, when funding from the state dropped and other colleges across Washington's community college system were slashing their offerings.Data from the Washington State Board for Community and Technical Colleges show that between July 2009 and September 2011 the system's colleges closed more than 560 programs and opened 213 new ones.
"As we have gone up and down economically, with different recessions that we've experienced, the international program has been very beneficial in helping our domestic student population," Ely said. "In many instances, if we did not have the revenue stream coming in from the international program we most probably would have had to cut additional staff, offer less classes, possibly less programming."
She added, of the spending on buildings: "When you look at what's happened with capital funding at the state level, we don't even qualify for another capital project until probably 2021, and that's just being awarded the project. Then you look at six to seven years out to have a finished product. At Green River we've elected to use some of our international dollars to move forward and to replace some of our aging buildings."
"In the times of decreasing appropriations," Ely said, "domestic students are benefiting from those dollars."
At the same time administrators are sensitive to the criticism that the college has given preference to international students for the dollars they bring. In an op-edpublished in the Auburn Reporter last May, Ely wrote, "Unfortunately, the authors of this line of argumentation have forgotten the mission of the college: 'to ensure student success through comprehensive educational programs and support services responsive to our diverse communities' … Green River's mission does not distinguish between international students and domestic students."
​"In some ways we've had to redefine what 'community' means here," said Friedly, the college spokeswoman. "The community colleges were originally started as being small places that were closer to home so people didn't have to commute. But as President Ely said, we've grown into a global community at this point, and to think that the only people you're going to deal with are the people who grew up in the same area that you grew up [in] is not exactly the most modern ideology you can have."